New York fund Marathon emerges as Obel buyer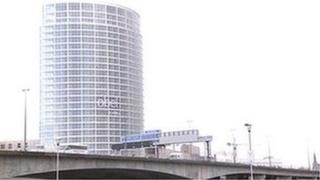 A New York investment fund has emerged as the buyer of the Obel development in Belfast.
Marathon Asset Management paid more than £20m for the residential and commercial development that includes Ireland's tallest building.
Marathon has also bought the Cityside Retail Park in north Belfast and Shane Retail Park in south Belfast.
It is understood they went for £50m and were sold by Corbo, one of Northern Ireland's largest property firms.
Corbo has been has been a seller of property in recent years, disposing of assets in Newtownabbey, Newry, Belfast and Ballymena as well as Truro in Cornwall.
The firm's most recent accounts said that it had been required by its bankers to "accelerate debt reduction through short-term asset sales".
Marathon manages assets of about $11bn (£6.5bn) and runs its European operations from an office in London.
It has recently spent more than £200m buying a loan portfolio from Lloyds Bank that was related to around 80 properties in France and Germany
It was also a bidder for some of the loans being sold by the liquidators of the former Anglo Irish Bank.
The Northern Ireland properties were sold by Savills Northern Ireland.
The firm's director of investments, Ben Turtle, said the deals are "reflective of the increasing confidence in Northern Ireland as a location for investment".
He said that over the past 18 months, the demand for investment properties - particularly from overseas investors - has "increased quite significantly, and the speed at which this sale completed is confirmation of that".
Marathon joins other major US funds that have invested in Northern Ireland including Cerberus, which bought Nama's loans, and Lone Star, which bought some Anglo Irish Bank loans.