Fintona, County Tyrone, alert: Pair face theft charges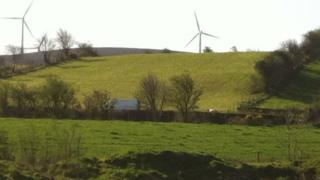 Two men have been in court charged over a fertiliser theft that sparked a major security alert in Fintona, County Tyrone, last month.
In court were Shane McConnell, 33, from Ecclesville Heights in Fintona and Terence Donnelly, 46, from Roscavey Road in Beragh.
They are accused of stealing two tonnes of fertiliser worth £800 and a fertiliser spreader valued at £1,000.
They also face a charge of going equipped for theft.
Police stopped the van the men were in on the Corbally Road in Fintona on 15 April.
The incident sparked a major security operation and Army bomb experts spent several hours examining the contents of the van using remote controlled robots.
Omagh Magistrates Court was told the case could take up to 12 months as it involved forensic evidence.
A defence solicitor for Mr McConnell said his client had indicated his innocence during five police interviews.
A police officer said the charges were based on police observations after the alleged offence had taken place.
The two men were granted bail of £400 subject to a night time curfew and are due to appear in court again on 10 June.