Rare parrots stolen from Seaforde butterfly house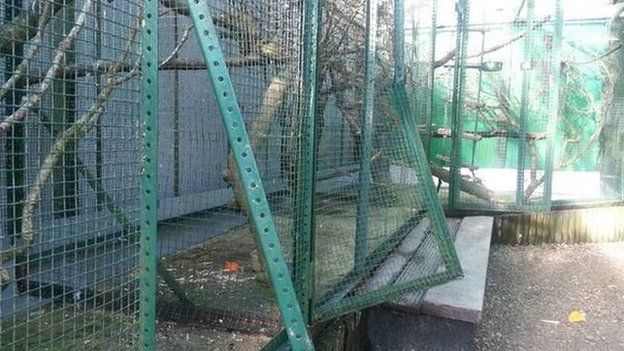 The owner of a visitor attraction in County Down has spoken of her devastation after the theft of three, much-loved rare parrots.
Two African Greys and an Amazonian parrot were taken from Seaforde Gardens and Tropical Butterfly House, near Newcastle.
Five terrapins were also stolen. The birds cannot survive unless they are in a warm environment.
Lady Anthea Forde said the incident would have traumatised the birds.
"They had been given to us and we were looking after them for people who wanted them to have a nice home," she said.
"They must have been very traumatised, these poor things. Parrots are very, very highly strung and in the middle of the night, people coming into your cage...
"We see that they used a stick and they must have flayed it around and got them on the ground and then caught them through the door, which was only half ajar."
All three birds were part of the family at the tropical enclosure near Newcastle and were very attached to each other, she said.
The African greys are called Harry and Jack and the Amazonian parrot is Pedro, who is 25 years old and said to make a "terrible noise".
Anthea said Pedro was a "very cross parrot" adding: "He didn't like people at all".
"He screeches his head off for about half an hour non-stop every afternoon," she said.
"It is the most appalling sound. But we got used to it and I really loved him very much. He was a crotchety old bird, but he was very dear.
"You can't live with Pedro in a house very comfortably, you would just have to put him in a room by himself. He is an aviary bird. He had his friends. He had made great friends with that African Grey."
Anthea is also worried about Jack, who was given to them by a couple from Bangor.
"Poor wee Jack has only one eye," she said.
"I can't bear the thought of them, they were shoved into a sack and into a cage."
The manager does not believe the birds have been stolen to order, because of their age but is desperate for information about them.
The police have appealed for anyone with information about the birds to contact them.