Lord Trimble 'hurt at secret' over On the Runs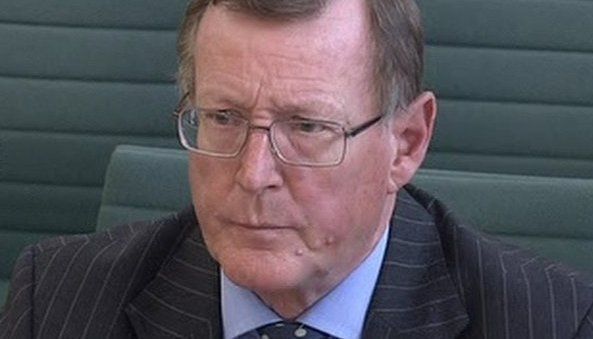 Former first minister and Ulster Unionist leader David Trimble has said he was shocked and hurt that Tony Blair kept him in the dark about a secret process to deal with On the Runs.
Lord Trimble was one of the key architects of the Good Friday Agreement.
He told the Northern Ireland Affairs Committee at Westminster on Tuesday that he felt deceived.
The committee is conducting an inquiry into On the Runs.
Under the plan, more than 200 people were told they were no longer wanted for paramilitary crimes committed before the 1998 Good Friday Agreement.
Lord Trimble said he had only become aware of the letters as a result of the Downey case.
Speaking to the committee, Lord Trimble said: "I was quite hurt by the fact that we had so many meetings with secretaries of state and the prime minister - and we approached those meetings in a candid manner - to find out they were deliberately keeping something from us."
The committee will travel to Stormont next month for a two-day evidence gathering session.
They will question First Minister Peter Robinson, who has described the OTR letters as "get of jail free cards" and also criticised the government for keeping his party in the dark.
Justice Minister David Ford will also give evidence.
The committee will also question Northern Ireland's Director of Public Prosecutions Barra McGrory QC about his involvement in the scheme.
In his previous role as a solicitor, Mr McGrory acted on behalf of Sinn Féin and met a senior police officer in charge of a specialist PSNI team set up to deal with the issue of On the Runs.
They discussed the legal mechanics of the process and his law firm later submitted a significant number of names of On the Runs to the police to have their legal status clarified.
The committee is trying to finalise arrangements to take evidence from Mr Blair, whose government set up the scheme.