Northern Ireland: Mental health 'affects one in five'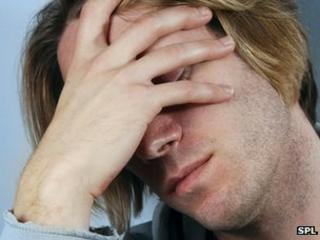 One in five people in Northern Ireland show signs of a possible mental health problem, the Public Health Agency has said.
Anxiety is one of the leading causes of mental ill health in the world.
It is the focus of Mental Health Awareness Week. People are being encouraged to seek help.
Dr Stephen Bergin, consultant in Public Health Medicine, said those suffering from anxiety can recover.
"Anxiety disorders can manifest themselves in different ways, but symptoms can include anxious and fearful feelings, avoiding people or situations, increased use of alcohol and or drugs and physical symptoms such as headaches, muscle or chest pain, rapid or shallow breathing or palpitation," he said.
"It is important to seek help if you feel you need it. Talking therapies, self-help strategies and medication can all help with anxiety."
Dr Bergin said people often tried to cover up their distress and despair.
"Rather than being a sign of weakness, it takes real strength to talk about your mental health issues. Talking about how you are feeling to someone you trust, whether that's a friend or family member, GP, charitable organisation or support service such as Lifeline, can be the first step towards recovery," he said.
More information on looking after your mental health, and the support that is available across Northern Ireland, can be found at Minding Your HeadMinding Your Head.