Maze peace centre would have run at a loss of £670,000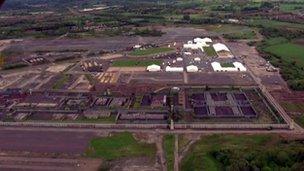 Newly released information on the stalled Maze peace centre reveals it hoped to attract up to 143,000 visitors a year, but would run at a loss of around £670,000.
The details are in a business plan prepared in August 2011 by the consultancy Colliers International for the Strategic Investment Board.
The plans were put on hold last summer.
The report was released following a Freedom of Information request by the Ulster Unionist Party.
Colliers projected that visitor numbers would start at around 119,000 but could grow to 143,000 by 2020 if the overall tourist market in Northern Ireland developed as projected.
It adds that around 35,000 of visitors would be tourists with the balance made up by local people.
A ticket price of £7 for adults and £5 for children is recommended, which would deliver annual admission income of about £600,000 by 2020.
Catering and conferences would create further income, but the consultancy predicted an annual deficit of almost £1m in the first year of operations, stabilising to £670,000 by 2020.
Looking at wider economic benefits it predicts the creation of a total of 118 jobs, both on and off site, giving an economic benefit of £1.2m.
The report also emphasises that presenting the Maze's "strong but controversial stories" in an appealing way without drawing significant objections will be "very difficult".
It says this will need a "very creative, sensitive and well thought through approach" that also avoids "sanitising" the experience.
It adds that for the centre to succeed it will need "an experienced and talented operations team" and that finding the right people "will be difficult and will need to be considered as a priority".
The consultants also suggest that the centre could be "marketed effectively" alongside Sprucefield shopping centre in Lisburn and that this approach could "provide cost-effective and convenient access to a potentially sizeable market".
A survey carried out for the report also suggested that the element of the site which was of greatest interest was its connections to RAF and World War 2, with 38% of respondents indicating interest.
The survey suggested 30% of people were interested in the Maze from the perspective of prisoners and their families.
When responses were broken down on the basis of religion they showed wide divergence.