Businessman admits Campsie and Pennyburn tyre fire charges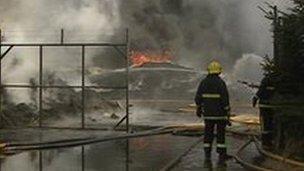 A bankrupt businessman has admitted charges linked to two large tyre fires in Londonderry in 2009.
James Joseph Heaney, 43, of Spruce Meadows, admitted breaching waste control legislation while he was a director of Campsie Tyre Recycling.
He also admitted keeping 405,000 used tyres at sites in Pennyburn and Campsie in a manner likely to cause pollution or harm to human health.
Sentencing was adjourned until next month, and he was released on bail.
The two fires at the industrial estates cost the Fire Service more than £300,000 to deal with.
A defence lawyer told Londonderry Crown Court that Heaney did not have anything to do with the fires, which were not started maliciously.
The prosecution said the maximum sentence was five years for the more serious charges relating to pollution.
The judge said confiscation proceedings against Heaney should be postponed until after the hearing in June.