PAC says Account NI payment cost 'extraordinarily high'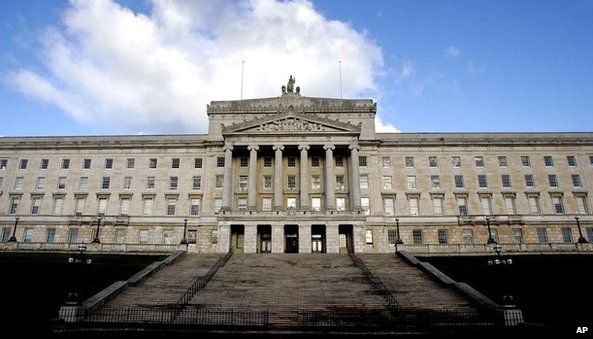 The amount that a government accounting system spends to pay external suppliers is "extraordinarily high", according to Stormont's spending watchdog.
Account NI spends £9.73 per payment and could save more than £3m a year, the Public Accounts Committee found.
It makes payments for local government departments and 18 other public bodies.
Stormont Finance Minister Simon Hamilton disputed the committee's findings and said the "direct staff cost per transaction is around £2.05".
PAC chairperson Michaela Boyle said: "The Audit Office has estimated that if Account NI reduced its costs to comparable international performers, it could save £3.4m a year."
However, Mr Hamilton said the committee had overestimated the amount of savings that could be made.
"The figure of £9.73 quoted by the PAC is not an appropriate basis on which to make a valid comparison with other bodies," he said.
"The report's analysis therefore is insufficiently robust for the PAC to reasonably draw such a definitive conclusion on cost."
Account NI was set up to reduce duplication, automate processes and reduce costs by taking advantage of the departments' purchasing power.
It processes more than one million transactions a year, worth more than £10bn.
Ms Boyle said: "It is clear to the committee that the department does not accept the extent to which Account NI is a very high cost operation, but we welcome the department's acknowledgement that more needs to be done in this area."
The committee said £213m had been invested in the project since it began in 2000, but there was a lack of clear evidence that it had delivered value for money.
It said that while the business case for Account NI had projected savings of £43m, it was not clear if these had been made.
"It is not acceptable that the public purse is committed to spending millions more on this project without clear evidence that it has delivered, or will in future deliver, value for money," said Ms Boyle.
However, the committee said the findings were "not wholly discouraging", as suppliers were paid on average in seven days, three ahead of the executive's target.
"Account NI's performance against the prompt payment target is world class," said Ms Boyle.
"But it has much more to do to ensure it represents the best and most cost effective option for potential new customers and that it maximises the benefits from the public's considerable financial investment in the project."
Mr Hamilton said Northern Ireland's shared services were "an exemplar not just in Europe but in the world".
"I always want to see services like Account NI improving continuously and my department is working towards improving the service, particularly through the process of benchmarking on a like-for-like basis, but I also expect the PAC to produce a solid case on which to base their conclusions," he said.
Related Internet Links
The BBC is not responsible for the content of external sites.