Neil McConville death: Gun used in PSNI killing destroyed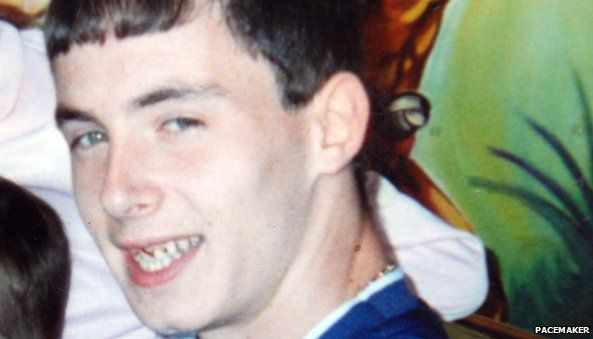 The gun used in the first fatal shooting carried out by the PSNI has been destroyed, it has emerged.
Neil McConville, 21, was killed as he tried to evade police in a car near Lisburn in April 2003.
The weapon was destroyed at some point after it was returned to the force by the Police Ombudsman's office.
With an inquest still to be held, the watchdog has accepted it was a mistake to hand back the gun.
Lawyers for Mr McConville's former partner are pressing for more information about how and why the weapon was destroyed.
Northern Ireland's police service changed from the RUC to the PSNI in November 2001, as part of sweeping reforms to policing under the terms of the 1998 Good Friday Agreement.
On the evening Mr McConville was killed, police officers had been following the car he was driving on the correct suspicion that a firearm was being transported.
Police opened fire amid fears he was about to drive over an officer already knocked down and lying injured directly in his path.
A subsequent investigation by the then Police Ombudsman Nuala O'Loan found that the officer who fired the fatal shots had been justified.
Her investigation criticised senior officers' management of the operation, and she also expressed "grave concern" that sensitive intelligence was deleted from a PSNI computer during her investigation.
At the time of the shooting, the weapon used by police was taken to be forensically examined.
In January 2010, a Police Ombudsman officer collected the gun from Forensic Science and returned it, along with others, to the PSNI.
A solicitor representing Mr McConville's former partner said a further complaint had been lodged with the Police Ombudsman in an attempt to discover who took the decision.
Kevin Winters of KRW Law added: "It's very disturbing that a decision like this was taken so close to a court hearing date as it hampered our firearms expert's ability to prepare a report for court.
"It's the sort of thing you associate with RUC collusion allegations when it wasn't unusual to find that evidence had been interfered with, removed or destroyed altogether.
"Incredibly, we find this very same problem has arisen here and it's understandable why anyone would be both angry and deeply suspicious."
A PSNI spokesman said: "We can confirm that the weapon has been destroyed by the PSNI."
A spokesman for the Police Ombudsman's office said the weapon was returned to the PSNI in 2010 - before the inquest had been held.
He added: "Since then we have revised our processes to seek to ensure such mistakes do not happen again."