Graffiti daubed on Fourscore Orange hall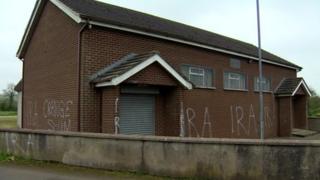 Republican graffiti has been daubed on an Orange hall in County Antrim.
The graffiti, including IRA slogans and "Orange scum", was sprayed on Fourscore Orange Hall, near Glenavy.
The incident happened overnight between Tuesday and Wednesday. Police are treating the incident as a hate crime.
It is believed to be the fourth reported attack on Orange property this year.