Bloomfield Collegiate governors fined for asbestos discovery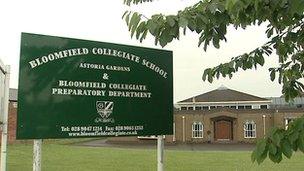 The governors of an east Belfast grammar school have been fined after asbestos was found in buildings being used as a nursery school.
In 2012, asbestos was found in buildings rented out by Bloomfield Collegiate prep school to a nursery.
Bloomfield's board of governors pleaded guilty to three breaches of health and safety law.
They were fined £7,500, plus costs of £1,750.
The judge at Belfast Crown Court said he accepted the school and its board did not breach regulations deliberately, but added: "It is a concern children were being exposed, especially children of such a tender age."
The prep department comprises smaller buildings on the school's main campus.
It was used as primary school until June 2011, and then used as a nursery.
During the hearings, it emerged that the Department of Education had undertaken an asbestos survey of Bloomfield's main school in 2004 but this did not include the prep department.
The court heard that the potential presence of asbestos was raised by the school's new principal in October 2011, when concerns were expressed that the smaller building had not been surveyed for asbestos in 2004.
In May 2012, the school carried out a survey of the prep building, and asbestos was found in and around cupboards, shelves, behind the blackboards and in the hallway.
The HSENI (Health and Safety Executive for Northern Ireland) was notified and it immediately carried out its own examination of the building, where "elevated levels" of asbestos were found.
Prosecuting lawyers said the board was aware there was a potential problem in June 2011, but did not do anything until May the following year.
However a defence lawyer argued that the school "mistakenly" believed the prep school had been surveyed in 2004 and that when the issue was raised by the principal in 2011 he was "remarkably proactive".
The lawyer said the principal contacted the HSENI and the person who ran the nursery as well as informing parents and holding public meetings.
The court also heard that the school is undergoing financial difficulties and is now controlled by the Department of Education, having previously been run as a voluntary grammar school.
A defence lawyer said the school "has no capacity to raise any income" and has "no ability to pay its debtors".
The judge said he accepted there was no deliberate intention to expose anyone to the substance and the offences were not "financially motivated".
He added: "It is clear that the individuals concerned and the members of the board have shown remorse and that it is obvious from the actions that were taken once this material was discovered."
Ronan Magee, head of the education group for the HSENI, said: "HSENI takes this opportunity to remind everyone responsible for the school premises of duty to manage the risks presented by asbestos containing materials (ACMs)."