Belfast Facebook fight organisers warned of prosecution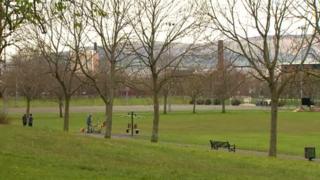 Young people using social media to arrange fights with rival gangs have been warned they will be prosecuted.
Community workers in east Belfast have said sites such as Facebook are increasingly being used to arrange fights.
It is believed the groups, which are divided along sectarian lines, have been carrying knives.
A 12-year-old was one of a number of people arrested recently following an arranged fight in Ormeau Park.
Police say there have been 21 arrests in east Belfast linked to interface issues in the last month.
Criminal record
They have warned those arranging or taking part in the fights they will face prosecution.
Chief Inspector Robert Murdie said: "I would appeal to parents to make sure that you speak to your child, make them aware of the risks of being in an area where anti-social behaviour is occurring and I would ask all parents to make sure that you know where your child is and what they are doing.
"Police are working with Belfast City Council and there will be an increased presence of police and park wardens in the area.
"Police are also working with local community groups to highlight the impact that a criminal record can have on an individual. A criminal record can effect career and travel options."
Two weeks ago, police investigated reports that up to 40 young people gathered in north Belfast to watch a fight between two boys that was arranged on social media.
Sectarian comments
Damien Brennan, from Short Strand Community Forum, said: "We have had a rising number of incidents where young people have been meeting up at the interface after arranging fights through social media.
"Facebook seems to be a big, big problem when it comes to all this happening."
The community worker said there was an "increasing trend" of sectarian comments online being the basis for the organised fights.
He also said there were "worrying" reports that young people were using weapons.
He added: "From a community perspective, we're worried that small instances like this could get bigger and attract more sinister elements."
It is understood that many of the young people are coming from areas outside of east Belfast, including Newtownards.
'Looking for gaps'
Scott Woods, along with other community workers, patrols the interface areas in east Belfast to monitor crowds of young people.
He said Ormeau Park is increasingly being used as a meeting point as the groups are now seeking areas that are less monitored.
"Because of the work that people are doing around here, young people are looking for the gaps," he said.
"That is why we're now going to places like Ormeau Park, as we don't want to push the problems somewhere else. We want to address the problem."
Fellow community worker Alfie McCrory, whose son is currently on parole from a prison sentence for rioting, said that young people have to be aware that they could go to prison.
"My son made that choice and, I can tell you, speaking to him this morning, it has wised him up. But he had to go to jail to be wised up.
"We're trying to keep young people out of jail so they don't go through that system."