Marian McGlinchey: Parole Commissioners' decision was 'unlawful'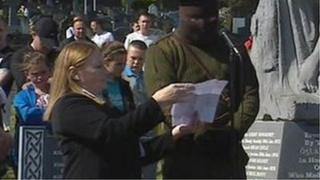 A decision to deny a human rights watchdog access to a hearing on whether to release Old Bailey bomber Marian Price was unlawful, a High Court judge has ruled.
The Committee on the Administration of Justice (CAJ) had wanted to attend as an observer.
It was refused permission by the NI Parole Commissioners.
Ms Price had her licence revoked in 2011 and spent two years in prison before being freed in May last year.
In January, she was given a suspended sentence for aiding dissident republican terrorists.
The 59-year-old served a prison sentence along with her late sister Dolours for their part in the IRA car bomb attack on London's Old Bailey courts in 1973.
One man died of a heart attack and more than 200 people were injured.
But her licence was later revoked in 2011 by the then Secretary of State Owen Patterson.
The CAJ then applied to be present as an observer at a number of hearings, held before the Parole Commissioners determined she could be released again.
Permitting its attendance would have ensured an additional layer of transparency and accountability, counsel for the watchdog argued.
Although information discussed in the hearings is confidential and cannot be disclosed, being able to sit in on them would help form opinions, counsel said.
Mr Justice Treacy held that the Northern Ireland Parole Commissioners had misdirected themselves in refusing to let the CAJ attend as an observer.
He said: "Even in circumstances where there is an exception to the general principle of open justice, there is still a public interest in proceedings being as transparent and accountable as possible."
Lawyers for the CAJ had pressed ahead with the judicial review challenge even after Ms Price was released from custody.
Impact
Rejecting claims that the case had been rendered academic, they claimed it formed part of a wider policy of refusing applications to attend Parole Commissioner hearings.
The CAJ had also been following the impact that detention was having on her health.
Refusing access, the Parole Commissioners concluded that this monitoring was not deemed sufficient reason to permit attendance.
But Mr Justice Treacy held that the request to send a representative as an observer was considered by the Parole Commissioners under a different section of the relevant rules.
He said: "These are clearly different tests with different considerations to be measured.
"For this reason the commissioners misdirected themselves in law and could not have weighed the factors relevant to the rule.
"The decision is therefore unlawful."