Hugh Smyth: Former Progressive Unionist Party leader's funeral held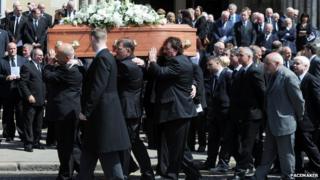 Hundreds of people have attended the funeral of the former Belfast city councillor and Progressive Unionist Party leader Hugh Smyth.
Mr Smyth, who was 75, died on Monday. He served on Belfast City Council for 41 years and was a former lord mayor.
His coffin was escorted from West Belfast Orange Hall on Shankill Road to St Anne's Cathedral for the service.
His former party colleagues Billy Hutchinson and Ken Wilkinson carried the coffin into the cathedral.
Councillors from across the political divide attended the service.
Mr Smyth gave up the PUP leadership in 2002, when he was succeeded by David Ervine.
He was first elected as a councillor in May 1972 and was one of the best-known characters at Belfast City Hall until he stood down last December.
He also served in the 1974 Northern Ireland Assembly and the Northern Ireland Convention.
Mr Smyth was awarded an OBE for his services to the community in 1996.