Stormont security staff in back pay warning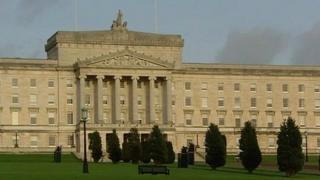 Security staff responsible for the Stormont estate have said they have been waiting for nearly two years for a backdated pay award.
They are now planning to go back to the High Court, which upheld their original claim in 2012.
The 13 members of staff say they are owed about £25,000 each.
A Department of Finance and Personnel spokesperson said there had been "no delay in this case on the part of the department".
"The department has fully co-operated with the listing of this case in accordance with the wishes of the plaintiff's solicitor and the directions of the court," they added.
"This case is the subject of ongoing litigation and it is not appropriate for the department to comment further."
One of the security staff, 64-year-old Liz Hamilton, said she had been lobbying MLAs who pass her going to and from their work at Stormont, but the guards still had not got their pay.
She said it was placing "an awful strain" on them.
"I'd like to see the Department of Finance having the graciousness to admit they were wrong and pay the people out the money that they owe them," she said.
"That's all we want and to carry on with our jobs."