Health Minister Edwin Poots issues department finance warning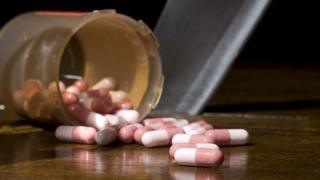 A briefing paper from Health Minister Edwin Poots has painted a grim picture about the state of his department's finances.
It was given to the Stormont Health Committee on Wednesday.
It contains warnings of potential charges for prescriptions and some medical treatments.
The document also highlights the possibility of falling standards and climbing waiting lists if additional money cannot be found.
Others, however, may argue that it is merely sabre rattling that hardly helps an already deepening crisis within the health service.
The paper reveals the scale of the financial challenges facing the health department over the next 12 months. If it is to meet all its existing plans, there is a funding gap of £160m.
One other problem is a departmental deficit of £115m.
Stark choices
While a saving of around £170m is projected as a result of efficiencies, that would mean trusts and social care services tightening their belts even further.
The paper outlines stark choices to save money.
Mr Poots has outlined five options:
Further cuts to already tight budgets for the five health trusts
The potential for re-introducing prescription charges
Imposing pay constraints on healthcare workers
Reducing the range and standard of services
Taking money away from other executive departments
If there is no agreement on any of these options, the minister warns of serious consequences over waiting times, the compromising of patient safety and Northern Ireland not being able to afford new treatments and drugs, like those for cancer.