Search for missing man on Lough Erne ends for the night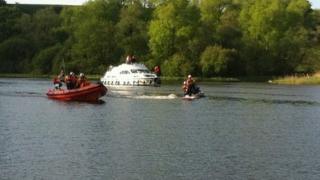 A search operation for a missing man on Lough Erne in County Fermanagh has ended for the night.
The search began around 18:30 BST on Friday after reports that a boat had capsized and sunk.
Two RNLI lifeboats and a police boat were involved in searches on the water while police and fire officers searched along the shoreline in an area around Portora Boat Club.
It is understood up to six people were on board - five made it to shore.
The missing man is believed to be in his early 20s and from Enniskillen.
The police helicopter joined the search on Friday evening.
Earlier, the Irish coastguard helicopter, from County Sligo, was brought in to assist in the search, but has now left.
The overturned boat was recovered and tied up at Portora Lock. It has now been towed back to its mooring in Enniskillen.
The search will resume on Saturday morning.