Nigeria abducted schoolgirls: Belfast rally calls for release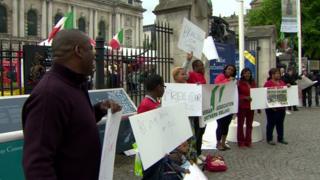 A rally has been held in Belfast calling for the release of more than 200 schoolgirls abducted last month.
The girls were taken from northern Nigeria by the Islamist terrorist group, Boko Haram, on 14 April.
Earlier this week, the group released a video showing more than 100 of them and offering an exchange for prisoners.
Dorcas Obikoya, from the Nigerian Association Northern Ireland, who attended the rally at Belfast City Hall, said support was vital.
"We are telling the Nigerian government to look into the actions of the Boko Haram and release those children," she said.
"Their parents are in agony. We are appealing to all Nigerians, and all Nigerian friends to support us to campaign for bringing our girls back."
She said people in Northern Ireland had been very supportive.
"We see support from the PSNI, and support from the city council. It is all over the news here in Northern Ireland, so it is very, very amazing the support we received in Northern Ireland."
The rally comes as France is hosting a security summit on the threat from Boko Haram Islamists.
Nigerian President Goodluck Jonathan and other West African leaders are due to attend the talks in Paris.
He had been expected to visit the north-eastern town of Chibok, where the girls were seized, but called the trip off for security reasons.