Bus and train passengers 'harming hearing', say charity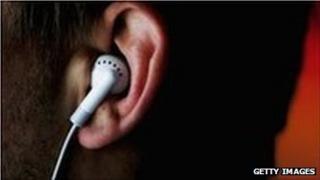 People on buses and trains are harming their hearing by listening to music too loud, a NI deafness charity has said.
Action on Hearing Loss said research showed that people who listen to music on public transport often turn the volume up to block out other noise.
Listening to loud music can cause permanent hearing damage.
Volunteers from the charity are visiting bus and train stations across Northern Ireland to raise awareness, as part of Deaf Awareness Week.
The charity, in partnership with Translink, will also be providing information and support to anyone with hearing loss and offering help with hearing aids.
Jackie White, Northern Ireland director for Action on Hearing Loss, said: "We've all been on the bus or train and heard someone else's music leaking from their earphones.
"Imagine how the delicate human ear could be affected. We are grateful to Translink for helping us reach out to these music lovers, and to passengers with hearing aids, during Deaf Awareness Week."
Julie Sherlock, media relations officer with Translink, said: "We want all our passengers to enjoy their journey.
"If they want to do that by listening to their favourite tunes, this partnership will help them understand how to enjoy their music without risking damage to their hearing."
Volunteers from Action on Hearing Loss will be visiting stations in Belfast, Coleraine, Bangor, Portadown and Antrim.