Larne violence: Two held under Terrorism Act are released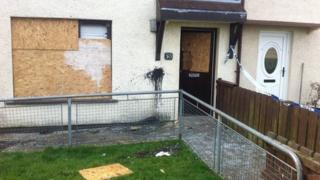 Police have released two men arrested under the Terrorism Act by detectives investigating disturbances in Larne, County Antrim, on Sunday 30 March.
The men, a 33-year-old and a 32-year-old, were arrested on Monday morning in Larne.
During the violence, a crowd of up to 100 people, many of them masked, attacked police, residents and homes.
One man was seriously injured and a police officer suffered an eye wound during the violence.