Proud possessor of a full set of team booklets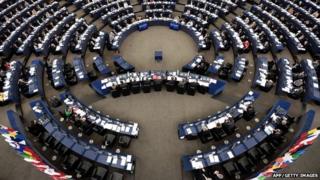 With less than a month to go until the World Cup, plenty of young football fans are collecting stickers to fill in the spaces in their team booklets.
With less than a week to go until the European elections, I am proud to say I now have the full set.
We talked to all ten of the local candidates for BBC Radio Ulster's Inside Politics.
Sinn Fein's Martina Anderson told me the release of Gerry Adams was a "Mandela moment" and explained that she would have abstained if the controversial Estrela report on abortion had been put to a formal vote.
The DUP's Diane Dodds insisted the DUP had been serious in its consideration of a second candidate and denied that Gerry Adams' arrest had handed the TUV an extra argument against power-sharing.
The Ulster Unionist, Jim Nicholson, reckoned an Irish News description of him as the "Moby Dick of Ulster politics" was unfair given the local media's failure to report his activities in the European parliament.
'Dismal performance'
The SDLP's Alex Attwood claimed that since John Hume left the European parliament, Northern Ireland has not been punching its weight in Brussels.
The TUV leader, Jim Allister, described the election as a "perfect opportunity" for voters to pass their verdict on what he described as the "dismal performance" of the Stormont Executive.
Alliance's Anna Lo admitted that she had been "naive" to declare her personal support for a united Ireland and warned other parties not to heighten tensions over immigration.
The Green candidate, Ross Brown, talked to me about his personal journey, from a youthful interest in the DUP, to a fascination with Green economics, and why he thinks the other Stormont parties' support for a cut in corporation tax is a bad idea.
Tina McKenzie explained to me why NI21 prefers to be known as a "pro-union" or Northern Irish party rather than unionist and discussed why she had not followed in her Irish republican father's political footsteps.
You can find all these interviews on Inside Politics' podcast page.
However, that's only eight out of 10, so to complete your set, listen to my interview with Henry Reilly in which the UKIP candidate explained how he believes the 'Farage factor' has reached Northern Ireland and denied that UKIP's expressions of concerns about foreign workers being employed on a contract at the shipyard amounted to scaremongering.
New headquarters
Finally the Conservative, Mark Brotherston, talked to me about his upbringing as a child from a mixed marriage and defended the Westminster coalition's controversial welfare changes welfare changes.
On Tuesday night BBC Northern Ireland's election coverage moves up a gear with Noel Thompson hosting a European candidates' debate on Spotlight at 10.35 pm on BBC1. After polls close on Thursday at 22:00 BST, the View will be reading the runes, with our results coverage kicking off on Friday and Saturday with the council counts and ending on Monday with the European results.
Once our 462 councillors are elected, one of their first jobs will be to decide where their new headquarters should be.
The Sunday Politics programme debated some of the issues this weekend with Chris Page examining some of the challenges facing the new Causeway Coast and Glens council.
With some areas set to have a tug of war over the locations of the new council HQs, observers will wonder what significance should be read into where the shadow councils hold their inaugural meetings.
So far, I'm hearing that Fermanagh and Omagh will meet in Omagh, Causeway Coast and Glens in Coleraine, Lisburn and Castlereagh in Lisburn, Armagh, Banbridge and Craigavon (or the ABC council for short) in Craigavon and Mid Ulster in Dungannon.
Belfast, not surprisingly, will meet in Belfast City Hall.
If anyone out there hears where the other super councils are set to convene, keep me posted.