David Hume Kennerly: Famed photographer returns to Belfast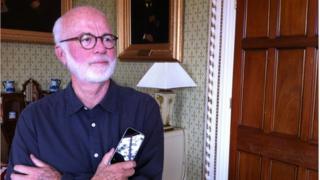 He was a war photographer in Vietnam, President Gerald Ford's official "snapper" in the White House and a Pulitzer Prize winning photojournalist.
David Hume Kennerly has taken millions of photos during a career spanning nearly 50 years.
Recently, he has been back in Belfast taking pictures while revisiting former trouble-torn areas from the 70s.
"I did an Orange march in Belfast the other night and there was a lot of police there, but it didn't have the ominous feeling that was there when I was here the first time.
"Nevertheless, you could still tell there was trouble under the surface" said the Oregon-born photographer.
"When I came here during the Troubles, I stayed in the Europa Hotel and I wasn't sure if the hotel would still be there when got back at the end of every day."
Kennerly has been shooting pictures in the frontline of history for more than 45 years.
He has photographed eight wars, numerous US presidents and travelled the world with his camera.
At the age of 25, he won the 1972 Pulitzer Prize for feature photography, including images from the Vietnam, Cambodia and India-Pakistan wars.
American Photo Magazine named him among the "100 most important people in photography".
He has witnessed and photographed the suffering and carnage that flows from war.
However, he said what he saw here on the streets of Northern Ireland in the 70s had the greatest impact on him.
He also draws a distinct line between television pictures and those captured by stills cameras.
"If it was TV that brought the war into your living room, it was the still photo that took it directly to your heart and soul," he says.
He cites two famous examples - the photograph by Eddie Adams of a Viet Cong suspect being shot in the head by a South Vietnam army officer and a little girl with her clothes burnt off after her village had just been napalm bombed by the US Air Force.
"If you've ever seen them, just the mention of those photos...they're always with you."
During his White House years with President Gerald Ford, Kennerly still had to pinch himself sometimes at the thought of how much access he had.
"He let me in to everything. I got to know him and his family and I was really like the fox in the chicken coop.
"I had full access everywhere all the time and it was a tremendous honour and privilege.
"There wasn't one day when I drove up to the gates of the White House that I wasn't in awe. I could not believe that they were letting me in there."
Kennerly's relatively unique access as a civilian photographer brought about a portfolio of intimate behind the scenes portraits of the president and his family.
It also allowed him to capture some of the most important decisions of the Ford presidency.
"My best pictures at that time were in a room when big decisions were being made. Anything big provides drama and that makes good pictures."
Kennerly is currently writing a book about photography in the digital age, which will advise a generation of smartphone and tablet photographers how to go about taking good pictures.
"I'm an old dog learning new tricks and I have totally kept up with the digital revolution.
"I'm trying to help people do a better job with an iPhone.
"Today those pictures are sharper and better exposed but it doesn't make them any better in terms of content" says the Pulitzer winner.
While corporate commissions now form part of his brief, Kennerly hasn't lost his news sense when it comes to a good photo opportunity.
During this brief visit to Belfast, Kennerly went up to see the Twaddell Avenue protest camp at the Ardoyne interface in the north of the city.
"There was a little four year old kid playing with a toy shotgun and he was walking around with the cops in the background and he was pointing it at people.
"That was a good picture. It does kind of put you in a time and place and I took that picture - with my iPhone."