Inquest delays: Six men's families awarded £7,500 each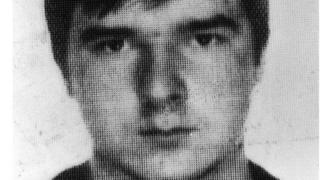 The families of six men killed by either police, soldiers or loyalist paramilitaries, are to be awarded £7,500 each in damages.
The payments are for unlawful delays in holding inquests, a High Court judge ruled on Tuesday.
Mr Justice Stephens held that compensation was necessary for the frustration, distress and anxiety suffered by the next of kin.
His landmark verdict could now open the floodgates for scores of other claims.
Relatives issued proceedings against the coroner and either the Police Service of Northern Ireland (PSNI), Police Ombudsman's Office or Ministry of Defence.
The cases are:
Pearse Jordan, an IRA man shot and killed by an RUC officer in Belfast on 25 November 1992;
Peter Ryan, one of three IRA men ambushed and shot dead by the SAS in Coagh, County Tyrone, in June 1991;
Catholic man Fergal McCusker, who was kidnapped and shot dead in Maghera, County Londonderry, by loyalist paramilitaries in January 1998. The McCusker family have concerns about collusion between paramilitaries and the state in his death;
Neil McConville, who was shot and killed by a PSNI officer after a car chase near Lisburn, County Antrim, in April 2003;
James McMenamin, who died after he was knocked down by a PSNI Land Rover on Belfast's Springfield Road in June 2005;
Stephen Craig Colwell, who was shot dead by police after he failed to stop in a stolen car at a checkpoint in Ballynahinch, County Down, in April 2006.
Lawyers for all six families claimed their human rights had been breached by the failure to examine the circumstances surrounding each death as soon as possible.
They argued that the state and the coroner broke obligations to ensure prompt human rights-compliant investigations into the deaths.
Counsel for the Department of Justice, featuring in the case as an umbrella state body, has already signalled that a proposal has been made to deal with the issues. It is understood a protocol for disclosing documents to the coroner features in the plans.
Mr Justice Stephens said the investigation into the death of a close relative impacted on the next of kin at a fundamental level of human dignity.
"It is obvious that if unlawful delays occur in an investigation into the death of a close relative that this will cause feelings of frustration, distress and anxiety to the next of kin," he said.
"It would be remarkable if any applicant was emotionally indifferent as to whether there was a dilatory investigation into the death of their close relative and such emotional indifference would be entirely inconsistent with an applicant who seeks to obtain relief by way of judicial review proceedings.
"As a matter of domestic law it would be lamentable if a premium was placed on protestations of misery.
"At this level of respect for human existence and for the human dignity of the next of kin of those who have died, there should be no call for a parade of personal unhappiness."
He held that all of the applicants, regardless as to their age, must have suffered by the unlawful delays.
Five of the payouts were made against the Department of Justice. In the Jordan case, the award was against the PSNI.
The payout is the second of its kind for the Jordan family, following a European court ruling in 2001 to award £10,000.
Their lawyer, Fearghal Shiels of Madden and Finucane Solicitors, said Tuesday's judgment was "a damning indictment of the PSNI and its attitude towards families bereaved during the conflict".
Solicitor Padraig Ó Muirigh, who represents the other five families, said the significant delays in holding investigations that meet human rights requirements has been well documented.
"It's also clear now that this delay is systemic and applies to post-conflict Article 2-compliant inquests as well," he said.
In a statement, the Northern Ireland Policing Board said: "Following a meeting last week, members outlined the need for the PSNI to make a public commitment to compliance in these cases and acknowledge past failings to meet legislative requirements.
"Board members will wish to discuss the commentary and findings of the judgment with the chief constable at the June board meeting."