Belfast: Business conference on NI's migrant workers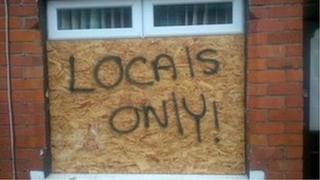 Migrant workers are the focus of a business conference being held in Belfast later.
Delegates from across Northern Ireland will hear what benefits people from other countries can bring to the workplace.
They will also hear how best to deal with the difficulties that they face.
The Equality Commission said the recent rise in hate crime in Northern Ireland showed how important it was to tackle prejudicial attitudes.
"Recent well publicised incidents of deplorable racist violence are a reminder of how urgent and important it is that everyone; workers, employers, service providers and statutory bodies continue to work together to challenge such unacceptable behaviour," Dr Michael Wardlow, chief commissioner of the Equality Commission, said.
"We can all benefit from the experience which employers in Northern Ireland have built up over many years when sectarian violence was rife in the community, in maintaining good and harmonious relationships within the workplace."
The Joseph Rowntree Foundation will launch new research at the conference that explores links between poverty and ethnicity to enable a more effective way of tackling poverty across different ethnic groups within Northern Ireland.
Delegates will also hear about the challenges faced by migrant workers in Northern Ireland from the Belfast Migrant Centre and the Roma Community Development Project.