Willie Frazer flag protest charges dropped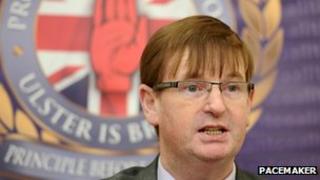 All flag protest charges against loyalist campaigner Willie Frazer have been dropped.
The prosecution said there was insufficient evidence on allegations that he took part in an un-notified public procession.
He was also charged with encouraging others to do the same by making a speech at Belfast City Hall.
Mr Frazer, 53, from Markethill, County Armagh, now faces a single count of possessing a Taser stun gun.
Afterwards, he claimed that the case against him had been political.
He said: "I spent t wo weeks in custody over this.
"I will be demanding to know through the House of Commons and the House of Lords who made the decision at senior policing level to charge me."
Mr Frazer was one of the most high-profile figures brought before the courts amid demonstrations over the decision to limit the flying of the Union flag at Belfast City Hall.
He was accused of encouraging or assisting offences by a public address, and taking part in unlawful marches.
Public demonstration
But with other charges having already been withdrawn, the judge was told two remaining counts connected to a protest on 19 January 2013, were being dropped.
A lawyer for the Public Prosecution Service said: "There have been disclosure issues over the last number of months and the prosecution have been coming into possession of bits and pieces of information.
"We have now stood back, reviewed the case and the evidential test is no longer viewed as being met in respect of (the two charges)."
With the flag-related charges being abandoned, the judge agreed to lift a ban on Mr Frazer participating in any public demonstration.
A prohibition on going within one mile of any protest or procession was also removed.
A contested hearing on the remaining charge of Mr Frazer having the Taser at his home is due to go ahead next week.
"I'm relieved but very angry," he said.
"For 15 months I was more, or less, under open house arrest.
"Thankfully I had a good legal team, but somebody had an agenda to take Willie Frazer and others off the streets."