Bernadette Smyth contesting Dawn Purvis harassment charge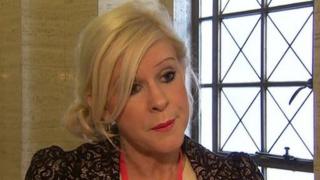 A lawyer for a pro-life campaigner who is accused of harassing Dawn Purvis of the Marie Stopes clinic has said his client will contest the charge.
Bernadette Smyth, who is the director of Precious Life, was not in court for Thursday morning's hearing.
Her lawyer told a district judge it was a very sensitive case, with a complex background, involving two high-profile people.
The case was listed for hearing again in June to set a date for the contest.
The Marie Stopes clinic opened in Belfast in October 2012, amid protests from pro-life groups.
It provides medical termination of pregnancy up to nine weeks gestation, subject to legal criteria being met.
A woman can only have an abortion in Northern Ireland if it can be proven her life is at risk or if there is a risk of permanent and serious damage to her mental or physical health.
Marie Stopes' other services include family planning and contraception, STI testing and treatment, HIV counselling, testing and referral.