Bubble wrap and breathing used to help reduce exam stress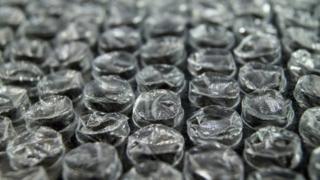 There is no quick fix for a lack of revision or preparation.
But there are techniques to ease the stress of sitting the exams. Some university students are turning to bubble wrap as a stress-buster.
They say popping those little air pockets is more relaxing than yoga.
I never liked exams. The pressure of being put to the test, to retrieve all that information that I had tried to absorb over many months was a difficult task in both school and college.
My way of dealing with the stress was to eat.
Not a good remedy, but it was a milky sweet indulgence that satisfied my yearning for the whole experience to be over.
There are 'sugar-free' options that can help.
Fintan Connolly is an educational consultant in Belfast who has been delivering his stress-busting programme in schools.
He says it is important for the students to understand how anxiety can have a detrimental effect on a part of the brain needed for a good performance in an exam situation.
A rapid heart-rate can affect your capacity to retrieve the information you want.
Deep breaths
But he says students can be taught to change their physiological response to stress by concentrating on their breathing.
His advice is to breathe in, then breathe out with a slow deep intake of air and a slow release.
It sounds too simple to be true.
However as a performer on television or at a public engagement in front of hundreds of people it is the technique I use to prepare myself.
I breathe deeply from the pit of my stomach to ease away any nerves, to help the mind relax and reduce any anxiety.
Exam Stress - interviews with students and a stress-buster on BBC Newsline this evening at 18:30 BST BBC One Northern Ireland