Vote 2014: Northern Ireland count continues into night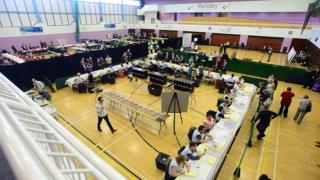 Counting of votes in Northern Ireland's local government elections is continuing well into the night.
The first result was announced at about 14:00 BST on Friday and by midnight 209 of the 462 seats were declared.
All results, available here, from the 11 new councils should be known by Saturday evening but the DUP and Sinn Féin are on course to take most of the seats.
The results of the European election will not be known until Monday.
Ten candidates are in the race for Northern Ireland's three seats in the European parliament.
More than 900 people are competing to fill 462 council seats in the 11 district councils.
BBC News Online NI is providing its most comprehensive coverage ever with live and detailed news and results for each of the 11 new councils from 12:00 BST.
A constantly updated scoreboard will show the state of the parties across Northern Ireland as the counting goes on, with a live stream of declarations, updates, news, analysis and reaction.
Each new council will have its own dedicated page with its own state-of-the-parties scoreboard and live stream of news and information.
There will also be details of who has been elected in each of Northern Ireland's 80 new district electoral areas (DEAs).
Details of how the results were arrived at in each DEA will be also be available online soon after counting is completed.
The same service will be available for the European count on Monday 26 May.
On social media, follow @BBCNewsNI and @BBCRadioFoyle on Twitter and BBC Newsline on Facebook
Unionists are expected to dominate six of the new councils, nationalists are expected to dominate four and in Belfast, the largest council area, the Alliance Party is likely to hold the balance of power.
The first person to be elected was the DUP's Nigel Kells, a newcomer who took a seat in the new Antrim and Newtownabbey council.
BBC Northern Ireland political correspondent Martina Purdy said: "Early indications are that NI21, which is mired in turmoil, has not polled particularly well while the TUV, led by Jim Allister, could pick up council seats."
On television, Vote 2014 is presented by Tara Mills and Mark Carruthers on BBC Two Northern Ireland on Friday from 21:00 BST to 22:00 BST and again from 22:30 BST to 23:30 BST.
On BBC Radio Ulster, Seamus McKee presents an Evening Extra election special from 17:00 BST to 18:30 BST and then from 20:00 BST to 22:00 BST.
BBC Radio Foyle will have a special election programme from 20:00 BST, with Sarah Brett presenting.