Richard Haass will not get involved in Northern Ireland talks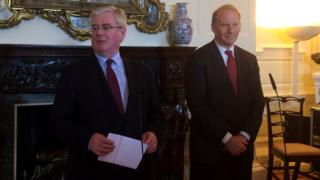 Former US diplomat Dr Richard Haass has said he will not be involved in next week's Northern Ireland party leader talks on the past, parades and flags.
He told a news conference in Dublin that his formal role had ended, but that his interest had not.
Dr Haass said there was now an ideal moment to return to address contentious issues.
Irish Deputy Prime Minister Eamon Gilmore said he would be meeting the secretary of state next Thursday.
He said with elections over, it was time for the Northern Ireland parties to get back to business.
He also said both governments share the view that we now need to use the next few weeks urgently and there needs to be a renewed effort.
Dr Haass said he did not foresee a formal role for himself at this point.
Over the Christmas and New Year period Dr Haass and his associate, Dr Meghan O'Sullivan, failed in their attempts to reach all-party agreement about the past, parades, flags and emblems.
Sinn Féin and the SDLP supported the American diplomats' proposals, which were rejected by the DUP, Ulster Unionists and the Alliance party.
At the time Dr Haass said his work was done.
Mr Gilmore and the American diplomat spoke following the arrest of Gerry Adams.
The Sinn Féin leader was questioned by Police Service of Northern Ireland detectives about his alleged IRA membership and alleged involvement in the murder of the widowed mother of 10, Jean McConville, both of which he denies.
Mr Gilmore said he believed there was a window of time between the end of the local and European elections and the start of the marching season in which progress could be made.
"There may well be a role for him again," Mr Gilmore said about Dr Haass.
The two men met at the Department of Foreign Affairs and Trade in Iveagh House before holding a news conference.