Woman stabbed 26 times loses legal challenge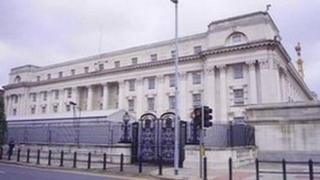 A woman stabbed by an ex-partner at a Belfast medical centre has lost a legal challenge to how health authorities reviewed the incident.
Mary McReynolds wanted the High Court to quash a decision to sign off a report carried out after she was attacked.
She was stabbed up to 26 times at the Grove Wellbeing Centre in August 2011.
Darren Todd, 26, from Pound Street, Newtownards, County Down, was subsequently jailed for eight years.
He had pleaded guilty to attempted murder.
Judicial review proceedings issued by Ms McReynolds involved no claim about the actual stabbing.
Instead, her case against the Belfast Health and Social Care Trust centred on the Serious Adverse Incident (SAI) review carried out afterwards.
She claimed an independent review should have taken place.
Her lawyers also challenged the Health and Social Care Board for signing off on the report that was prepared.
They said that her human rights to take part in meetings without fear of violence had been breached.
The review was not free from bias, prejudice and conflict of interest, it was further alleged.
Dismissing the case on Wednesday, Mr Justice Treacy said it was beyond his remit to tell the trust or board how to perform their internal investigations unless public law illegality is found.
"I would note that the complaints process should have been exhausted as this is and was the most appropriate forum to discuss the performance of the trust/board reviews," he added.
"Judicial review is not the appropriate remedy in the instant case and the claim is rejected on this ground."
The judge also held there was neither any procedural unfairness, nor any breach of Ms McReynolds human rights.
Noting that she is also pursuing a separate civil claim, Mr Justice Treacy awarded costs to the respondent health authorities.