NI21 rift due to internal staff matters, John McCallister says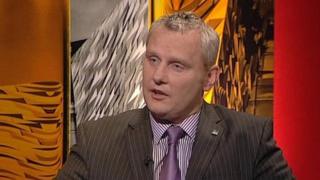 NI21 deputy leader John McCallister says a public rift within the party is because he instigated an external investigation into rumours relating to the party leader Basil McCrea.
Mr McCrea told The View he was confident he has done nothing wrong.
Mr McCallister apologised to NI21's supporters for the current turmoil.
Meanwhile, NI21's European candidate Tina McKenzie has resigned from the party's executive with immediate effect.
She said on twitter: "So sad that fresh politics has been let down by old politicians. I have resigned from the executive but still fully support NI21.
"If elected I will stand but will not work for people who play dirty tricks and dirty politics."
NI21 was set up by MLAs Basil McCrea and John McCallister, after they quit the Ulster Unionist Party in 2013.
On Wednesday, John McCallister described the party's decision to drop its unionist designation as "crazy" and "dysfunctional".
He alleged the move two days before the election was aimed at trying to force him to quit his post so that he could no longer deal with the external investigation.
Mr McCrea has said he would respond if anyone brought any complaints to his attention.