Ballee High School closure confirmed by John O'Dowd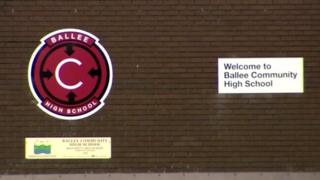 The closure of a Ballymena high school has been confirmed by Education Minister John O'Dowd.
Ballee Community High School will close on 31 August "or as soon as possible thereafter".
The school has about 130 pupils, many of them sitting their GCSEs at the moment.
Mr O'Dowd also announced the expansion of Dunclug College, in Ballymena. Its approved enrolment will increase from 600 to 840 pupils,
That will be managed by an increase in the admission number from 110 to 140 from 1 September.
"Ballee CHS has experienced a significant decline in enrolments in recent years, such that the school is no longer sustainable," Mr O'Dowd said.
"Furthermore, the standard of provision at the school has been of insufficient quality since March 2010 when it entered my department's formal intervention programme.
"Despite the board putting an action plan in place and the school receiving significant support, the Education and Training Inspectorate last year found that, overall, the quality of education at Ballee remains inadequate.
"Consider also the fact that the school is carrying a significant financial deficit and it is clear that it is simply no longer sustainable in terms of quality education, enrolment or finance."
Steady rise
He said Dunclug had experienced a steady rise in demand for places in recent years.
"I am satisfied that increasing the school's enrolment to 840, and the admissions number to 140, will address this demand," he said.
"I am not, however, persuaded to approve the element of the proposal to increase the enrolment to 935 pupils by 2025 as demand 10 years ahead cannot be accurately predicted in the absence of the plan for the whole area.
"The growth at Dunclug will be managed by the NEELB, taking into account other schools in the area."
The North Eastern Education and Library Board said it would provide support to pupils and teachers at Ballee.
"We are aware this is a very anxious time for pupils, parents and teachers, but we would like to reassure everyone that the Board is committed to addressing the presenting issues to ensure that every pupil is placed successfully in an alternative school by September," it said.