Loyalist Mark Harbinson convicted of sex order breach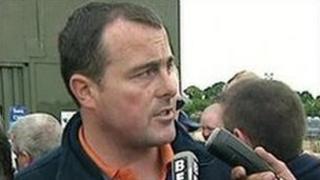 A loyalist jailed for sexually abusing a 13-year-old girl has been convicted of breaching a court order just three weeks after he left prison.
Mark Harbinson, 46, from Sheepwalk Road, Lisburn, was convicted of breaching a sexual offences prevention order (SOPO) at Craigavon Crown Court.
In May 2011, he was jailed for three and a half years for sexual assault.
He was freed a year ago but it is alleged he then broke the SOPO.
The jury deliberated for more than three hours before convicting Harbinson for breaching the order between 22 May and 18 June last year.
The breach concerns his involvement with a band, against the terms of the order.
During the week long trial, the jury heard that within three weeks of his release from prison, Harbinson, who was also convicted in 2011 of having indecent photographs of a child, had become involved with the band.
Harbinson denied this and said he knew that if he associated with the band he would be returned to prison.
After being convicted, Harbinson was released on continuing bail and the judge said he would pass sentence.