Vote 2014: DUP gains most councillors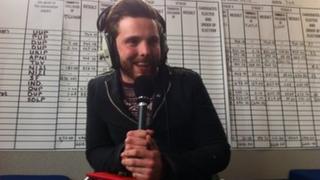 The DUP has won the most councillors in Northern Ireland's local elections, with Sinn Fein coming second.
Of the 462 seats on the 11 new super councils up for grabs, the DUP has taken 130, Sinn Féin 105, Ulster Unionists 88, SDLP 66, Alliance 32 and others 41.
Counting came to an end overnight on Saturday. More than 900 candidates stood for election.
Votes for the European elections will be counted on Monday.
At 24.1%, Sinn Féin emerged with the biggest share of the vote despite the DUP winning more seats.
The DUP has dipped from a 27% share in 2011 to 23%.
Steady
The Ulster Unionists achieved 16.1%, while Traditional Unionist Voice rose from 2% last time to 4.5%.
On the nationalist side, Sinn Féin has dropped by about 0.5%, remaining steady at around 24%.
The SDLP is down from 15% to around 13.5% percent.
Alliance has marginally dipped by less than 1% and is on around 6%.
In terms of seats, some smaller parties have made gains.
Northern Ireland's newest political party, NI21, has had one councillor elected despite the controversy that has overshadowed the party in the days running up to the election.
Johnny McCarthy won a seat in Lisburn.
Falling-out
NI21 was set up by MLAs Basil McCrea and John McCallister, after they quit the Ulster Unionist Party in 2013.
Just before polling day on Thursday, the two men had a very public falling-out.
The party announced on Tuesday that it was dropping its unionist designation at Stormont to describe itself as "other" - a decision described by Mr McCallister on the front page of the following day's News Letter as "crazy" and "dysfunctional".
On Thursday, it emerged that an external investigation had been launched following an allegation of sexual impropriety against NI21's leader Basil McCrea.
Mr McCrea denies the claim made by Ashleigh Murray, a former party worker.
The party's deputy leader John McCallister called on Mr McCrea to step aside until the investigation is completed.
Gary Donnelly, a member of the 32 County Sovereignty Committee - a republican group opposed to the peace process - was elected in Derry & Strabane.
Sinn Féin has not suffered a seat loss in Derry due to the election of Mr Donnelly. That was at the SDLP's expense, but Sinn Féin will have to suffer a fierce critic inside Derry and Strabane Council.
The Green Party won three seats in North Down and Ards, while the Progressive Unionist Party won three in Belfast.
Altercation
In West Belfast, Gerry Carroll was elected for the People before Profit.
A brother of veteran SDLP politician and former leader, John Hume, was asked to leave the count centre in Londonderry after an altercation with an SDLP candidate from Strabane.
It happened in a corridor as SDLP candidate and sitting councillor Patsy Kelly was leaving the count centre at the Templemore Sports Complex.
He alleged he was grabbed by Jim Hume, his former election agent.
They exchanged words and were then separated by security staff.
It is understood police spoke to Jim Hume after the incident and he agreed to leave the count centre.
They have launched an investigation.
It was a double victory and double confusion for two Ulster Unionist candidates who both share the same name.
Andrew Wilson was elected at both the Mid and East Antrim counts.
In the European election, the results will not be known until Monday when all 28 countries have voted.
Coverage
Ten candidates are in the race for Northern Ireland's three seats in the European parliament.
BBC News Online NI is providing its most comprehensive coverage ever with live and detailed news and results updates.
A live scoreboard shows the state of the parties across Northern Ireland, with a live stream of updates, news, analysis and reaction.
Each new council has its own dedicated page with its own state-of-the-parties scoreboard and live stream of news and information.
There are also details of who has been elected in each of Northern Ireland's 80 new district electoral areas (DEAs).
Details of how the results were arrived at in each DEA are also available online
The same service will be available for the European count on Monday 26 May.
On social media, follow @BBCNewsNI and @BBCRadioFoyle on Twitter and BBC Newsline on Facebook
TV coverage of the local elections continues with an extended Sunday Politics programme on BBC One at 11:35 BST on Sunday.
BBC Radio Ulster will have an election programme from 12:00 BST until 13:00 BST on Sunday.