Lagan Towpath, Lisburn: Pair charged over racist assault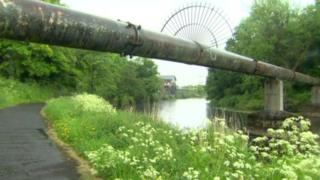 Two men have been charged with a number of offences over an alleged racist attack on the Lagan Towpath in Lisburn.
A 35-year-old man, who is black, was assaulted while walking on the towpath at about 15:30 BST on Saturday.
Three males shouted racist abuse at him, then punched him several times in the head. The man got away and ran to a bar in Bridge Street.
He was taken to a table upstairs by staff who then watched through the window as his attackers waited outside.
Police looked on via CCTV and arrested two men and a teenager as they walked back down the towpath.
The victim was taken to hospital for treatment to injuries that are not believed to be life-threatening.
The two men, aged 18 and 22, have been charged with assault occasioning actual bodily harm.
They also face charges of possession of an offensive weapon, behaviour intending or likely to stir up hatred and threats to kill.
The 22-year-old is due to appear in court in Lisburn on Monday, while the 18-year-old will appear on 19 June.
A 16-year-old boy also arrested was released pending a report to the Public Prosecution Service.