NI council election results completed and focus now on European results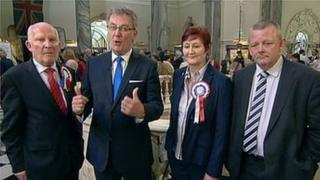 With the council election results finished, and the European election count still to come, Mike Nesbitt can afford to relax and enjoy his Sunday.
This was the Ulster Unionist leader's first test at the ballot box and he's passed it with credit.
Commentators have often talked the former TV presenter down for his apparent inconsistency, making liberal noises on some issues then taking hardline stances on others.
But if it was opportunistic, then it's paid off.
Peter Robinson is right to point out that journalists spend too much time concentrating on micro-changes and not enough remembering what stays the same.
Victories
Nothing in Saturday's results alter the fact that the DUP and Sinn Féin continue to dominate Northern Ireland politics.
However, in politics you only maintain domination by not becoming complacent and you can bet that DUP strategists will be taking a close look, not just at the UUP comeback, but also the TUV's strong showing allied to smaller, but notable victories for the PUP and UKIP.
My bet is the DUP will conclude they were right to ditch the Maze Peace Centre project and that the 4% decrease they suffered would have been worse if they had pressed ahead with the re-development of the former jail.
If that's the case it doesn't bode well for any revitalised Haass deal on flags, parades and the past.
It's probably no coincidence that a party leaders' meeting due to discuss these issues in the coming week has been postponed.
The vagaries of our PR system mean that the DUP is the biggest party in terms of seats, but Sinn Féin takes the top spot when it comes to first preference votes.
In part that's because some of those votes attracted by the other unionist parties bounced back to the DUP in later transfers.
Sinn Féin's pole position in vote share is good news for their likely poll topper in the European election, Martina Anderson.
Other than that, it's mainly just of mathematical interest, but you can expect it to figure in the run-up to the 2016 assembly elections when the old "who will be first minister?" argument arises.
With their colleagues south of the border set to make major in-roads, Sinn Féin can afford to feel reasonably satisfied.
The party's vote is marginally down, but their chief rivals within nationalism, the SDLP, are showing no signs of emulating the UUP's comeback.
Independents
That looks to be bad news for Alex Attwood's hopes of recapturing John Hume's lost European seat.
If Sinn Féin does have a headache it might stem from the rise of independents in their traditional areas.
Some, like 32 County Sovereignty Movement member Gary Donnelly in Derry, are very much identified with the dissident republican message.
Others, like the left wing People Before Profit's Gerry Carroll in West Belfast, stood on an anti-austerity platform, opposing developments such as welfare reform.
The success of the Greens in North Down and Belfast shows that environment issues have a resonance too.
Some of the victorious independents are hard-working locals, who are pledged to improve health, sports and other community facilities in their own backyards.
As I've said previously, prior to the elections I wondered if higher quotas in bigger councils would spell the end for the colourful local character in our council chambers, but the opposite has proven the case.
Finally a word of congratulations to Johnny McCarthy who, despite a week of appalling publicity, became NI21's one and only councillor.
His Facebook page shows one of his campaigners apparently dressed in a Darth Vader costume and his posters were emblazoned with the slogan "Never forget who you are, the rest of the world will not".
You can go a long way with a sense of humour, and if Johnny ends up being the answer to a pub quiz question then he's a few steps up on those of us, like me, who tend to end quiz nights sitting at the table which wins the wooden spoon.