Presbyterian moderator condemns James McConnell's Islam remarks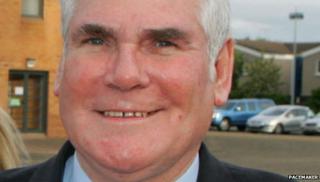 The moderator of the Presbyterian Church has criticised remarks made by an evangelical preacher who described Islam as "heathen" and "satanic".
Pastor James McConnell, of north Belfast's Whitewell Metropolitan Tabernacle Church, made the comments in a sermon last Sunday.
Reverend Dr Rob Craig said the comments were unacceptable.
"They are not consistent with the Gospel of Christ and the love of God," he said.
"I would be deeply offended if someone were to brand either all Presbyterians or all Christians with some extreme act by someone who claimed to do it in the name of Christ.
"I want to treat my neighbour as I would want to be treated myself."
Police have said they are investigating Pastor McConnell's comments.
He told his congregation "a new evil had arisen" and "there are cells of Muslims right throughout Britain".