Vote 2014: Counting for European elections gets under way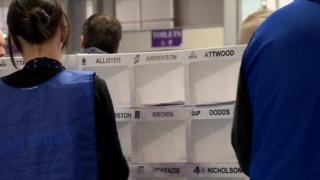 Counting has begun in the European elections with ten candidates contesting three seats.
For the latest updates, click here.
Sinn Féin's Martina Anderson is expected to top the poll.
On the unionist side, the DUP's Diane Dodds and Ulster Unionist Jim Nicholson are defending their seats.
Although voting took place last Thursday, candidates had to wait until Monday to hear the results.
This was due to the Europe-wide voting process.
One of the candidates, Tina McKenzie, from NI21 announced on Friday she was quitting politics following the recent controversy that has engulfed Northern Ireland's newest political party.
She told the Irish News that she was "disillusioned and no longer interested in politics".
The other candidates are the SDLP's Alex Attwood, the Alliance's Anna Lo and TUV leader Jim Allister.
Ross Brown is standing for the Greens, Mark Brotherston for the Conservatives and Henry Reilly for UKIP.
Counting is under way at the King's Hall in Belfast.
In Northern Ireland's local elections, the DUP secured the highest number of seats.
They gained 130 ahead of Sinn Féin on 105. The Ulster Unionist Party claimed 88, the SDLP 66 and Alliance 32.
Counting
The remainder of the seats, 41, were made up by smaller parties and independents.
Counting ended in the early hours of Sunday morning for the 462 seats in the 11 new super councils which were contested by more than 900 candidates.
Following the council vote, both Sinn Féin and the DUP can lay claim to the largest party title.
Sinn Féin because it polled the biggest share; the DUP because it won the most seats.
The DUP dipped from a 27% share in 2011 to 23%.
The Ulster Unionists were up around 1% to 16.5%.
On the nationalist side, Sinn Féin dropped by about 0.5%, remaining steady at around 24%.
The SDLP is down from 15% to around 13.5%.
Alliance has marginally dipped by less than 1% and is on around 6%.
In terms of seats, some smaller parties made gains.
The Traditional Unionist Voice saw its vote rise from 2% last time to 4.5%.
Northern Ireland's newest political party, NI21, had one councillor elected despite the controversy that overshadowed the party in the days running up to the election.
Johnny McCarthy won a seat in Lisburn.
BBC News Online NI will provide comprehensive coverage with live and detailed news. Link to live coverage of the European elections here.
On social media, follow @BBCNewsNI and @BBCRadioFoyle on Twitter and BBC Newsline on Facebook
There will also be a Talkback special on Radio Ulster from 12:00 BST, as well as election coverage on BBC 1 from 14:15 BST.