County Armagh man charged over race attack in Lisburn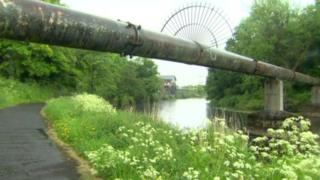 A County Armagh man has been charged with threatening to kill a foreign national and beating him with a stick in an alleged racist attack.
Thomas David Finn, 22, of Linenhall Street, Armagh, appeared at Lisburn Magistrates Court charged with inflicting actual bodily harm and threatening to kill Tonderai Msonza.
On Saturday, Mr Msonza was attacked on the Lagan Towpath in Lisburn.
Mr Finn was remanded in custody and is due to appear in court on 2 June.
He is also charged with intent to inflict actual bodily harm, behaviour intending or likely to stir up hatred and assaulting a police officer.
Punched
It was reported that Mr Msonza was targeted by three males while walking on 24 May.
It is alleged the men shouted racist obscenities before attacking him.
He was punched a number of times in the head before he escaped and took refuge in a bar in Armagh's Bridge Street.
He was taken to hospital for treatment to non-life threatening injuries.
An 18-year-old, who faces similar charges in relation to the same incident, is due to appear in court on Thursday, 19 June.
A 16-year-old, who was also arrested, has been released pending a report to the Public Prosecution Service (PPS).