European vote: Martina Anderson, Sinn Féin, tops poll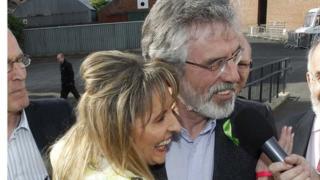 Martina Anderson, Sinn Féin, has topped the poll in the European elections for Northern Ireland.
She polled 159,813 votes, beating the quota by over 3,000 votes to become the first of Northern Ireland's three MEPs.
On the unionist side, the DUP's Diane Dodds came in second with 131,163 votes, about 25,000 short of the quota.
Counting ended at 12:40 BST on Tuesday after nearly 16 hours at the King's Hall in Belfast.
At stage four in the count, no other candidate reached the quota and Henry Reilly, UKIP, was eliminated.
Tina McKenzie, NI21, and Ross Brown, Green Party, were excluded at stage 3 and the process of transferring their votes began.
It took just over nine hours for the first preference votes to be confirmed.
Speaking at 21:00 BST on Monday, Graham Shields, chief electoral officer, at the count in Belfast's King's Hall, said it could be another two hours before all of Martina Anderson's surplus votes were distributed.
Mr Shields said it had been a long day. But he said some people had jobs to return to on Tuesday.
He said the delays in counting the European election results "strengthen the case for electronic voting".
Nigel Dodds, DUP, said the delay in the election result was "a travesty" and there were questions to answer.
He said that there were not enough people counting the ballots and Northern Ireland needed to "up its game".
Earlier, it was announced that Ulster Unionist Jim Nicholson got 83,438 votes.
Alex Attwood, SDLP, received 81,594 votes and Jim Allister, Traditional Unionist Voice, got 75,806 votes.
Anna Lo, the Alliance candidate, received 44,432 votes.
Henry Reilly for UKIP received 24,584 votes; Ross Brown, standing for the Greens, got 10,598 first preference votes. and Tina McKenzie for NI21 received 10,553.
Mark Brotherston for the Conservatives was eliminated at the end of the first count. He got 4,144 votes.
Votes totalled 636,093 and the valid poll was 626,125. Turnout is just below 52%, compared to 43% in 2009.
Ten candidates have been competing for the three seats in Europe.
Although voting took place last Thursday, candidates had to wait until Monday to hear results due to the Europe-wide voting process.
BBC News Online NI is providing comprehensive coverage with live and detailed news. Link to live coverage of the European elections here.
On social media, follow @BBCNewsNI and @BBCRadioFoyle on Twitter and BBC Newsline on Facebook