Graham Shields calls for electronic counting after delays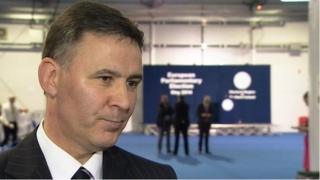 Northern Ireland's chief electoral officer has called for future elections to use an electronic counting system.
Graham Shields was speaking after delays caused counting for the European elections to slip into Tuesday.
The process has been criticised by politicians, including DUP MP Nigel Dodds who called it a "travesty".
First Minister Peter Robinson said ways of speeding up the count should be considered, including more counters or the introduction of technology.
But the DUP leader, arriving for the second day of the European election count, said the accuracy of the count should not be jeopardised.
Earlier, Mr Shields said he could understand the frustration, but that electronic counting was the "only way forward".
Speaking to BBC Radio Ulster, he said: "I completely get the frustration felt by people having to come back here for a second day.
"There has to be a better way forward and I think electronic counting is the answer."
'Fess up'
The Electoral Office has been criticised for how long it has taken to complete the European election count.
Counting was suspended at 00:40 BST on Tuesday morning after 16 hours at the King's Hall in Belfast.
Mr Dodds said the Electoral Office had to "fess up as to what's gone wrong" in the counting process.
On Tuesday, Diane Dodds, the DUP's European election candidate, added: "Clearly the Electoral Office has questions to answer.
"We cannot continue to be the laughing stock of the rest of the United Kingdom, and Europe, over the shambolic way these counts are conducted."
'Poorly attended'
However, Mr Shields said the count was "neither a shambles or a fiasco" and that the delay was caused by "getting things right and doing them efficiently".
He said: "I make no apology for taking care to do things properly and make sure votes were allocated to the right people."
Mr Shields added that the system was not his decision as it required politicians to change the law to allow electronic counting to be used.
The chief electoral officer also said he had provided a demonstration of electronic counting at Belfast's City Hall in 2012, but that it was "very poorly attended by senior politicians" despite complaints over the count during the 2011 Assembly election.
He said: "Perhaps if they had come along at that stage, and seen how well it could work, we might be a bit further along now."
'Very efficient'
He added: "I think we're using an old-fashioned system needlessly in the 21st century.
"There is technology out there that would allow this process to be completed in a matter of hours rather than days."
Mr Shields said the system allows ballots to be read and calculated by a computer instead of being counted by hand.
He said it had been used used in Scottish local elections since 2007 and that it was "very, very efficient".
He added that the system would be "not massively expensive, but a bit more expensive than running a manual count".