Second racist attack at Belfast house within hours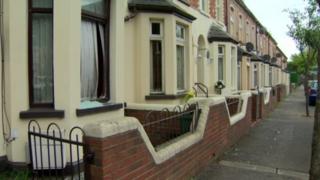 Two men have been assaulted at a house in Belfast just hours after the same property was targeted in a hate crime.
The men, aged 24 and 38, were attacked at their home in Parkmount Street at about 15:15 BST on Sunday.
The 24-year-old was also subjected to racist taunts by a group of people.
Earlier, Muhammad Asif Khattak, who shares the house with another Pakistani friend, had spoken to the media about the overnight attack in which their front window was smashed.
A bottle was thrown through the living room window of the house at about 02:50 BST and police said they were treating the incident as a hate crime.
'Scared'
On Sunday afternoon, a police spokeswoman said a 24-year-old man "had been subjected to racist taunts by a group of people outside the property" and was then assaulted by a man.
The victim managed to get into the house but two men followed him and forced their way inside.
The intruders also assaulted a 38-year-old man who lives in the house.
Police said the 24-year-old resident was taken to hospital where he was treated for an injury to his foot and minor cuts and bruises.
Speaking before the second attack on Sunday, Mr Khattak told the BBC he had gone downstairs to get a drink of water overnight and discovered the window was broken.
"We just came down and called the police straight away. We were so scared," he said.
Mr Khattak said he and his friend did not feel comfortable in the city.
"If we go outside in the street, people will start swearing at us... What can we do? We are just foreigners, we don't feel accepted. We are scared now and my family and friends are telling me to come back to London."
He said Northern Ireland would not prosper if this kind of attack continued.
'Appalling'
North Belfast MP Nigel Dodds, from the Democratic Unionist Party (DUP), condemned the attack on the two men.
"This attack like all the others on homes in north Belfast is utterly disgraceful," he said.
"This follows an attack 10 days ago on a Jamaican family in Rathcoole and a number of sectarian attacks including an attack on a house in the Glenbryn area on Friday.
"There is no justification for any attack on an individual or their home whatever the religion, lifestyle, or ethnicity of the person concerned," Mr Dodds added.
On Saturday, more than 4,000 people attended anti-racism rallies in Belfast and Londonderry following a recent spate of racist attacks in Northern Ireland.
The speakers included Alliance MLA Anna Lo, who this week said continual racist abuse had influenced her decision not to seek re-election to the Northern Ireland Assembly.
Speaking about the overnight attack on the Pakistani residents, SDLP MLA Alban Maginness, appealed to all politicians to work to end such incidents.
"It is absolutely appalling given the past week and the events in relation to racism during the course of that and also given the fact that there was a substantial demonstration in front of city hall yesterday," he said.
"This is a racist attack that should be condemned by everybody."
Sinn Féin MLA Gerry Kelly called the overnight attack "cowardly and shameful".
"It's vital that political leaders right across the community stand up against those involved in hate crime, whether those crimes are sectarian or racist in character," he said.
"People should be able to get on with their lives free from fear and intimidation.
"This incident is the latest in a spate of racist attacks in the city."