Michael Barry installed as new Presbyterian Moderator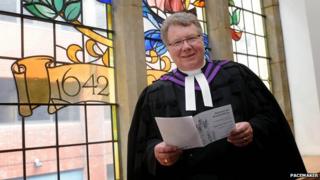 The Reverend Michael Barry has been installed as the Moderator of the Presbyterian Church in Ireland.
The 63-year-old was officially installed at the church's general assembly on Monday evening.
Dr Barry was previously minister of Sandys Street Presbyterian Church in Newry, County Down.
He told delegates he wanted the church to become "a people of service and outreach" always putting the needs of others first.
"To be a servant means that we are constantly watching out for the opportunity to serve other people," he said.
"We should be aware of their need, and we must be willing to adopt any position in order to meet it. We must be willing to sacrifice whatever we have or whatever we are in order to help them.
"To serve in this way is to care deeply for people. We must show the people outside that we love them more than we love ourselves."
Perceptions
Dr Barry also spoke about the recent spate of racist attacks in Belfast and other cities.
"We see 'me first' in the attacks on people who are perceived to be different in some way," he told delegates.
"The honorary consul for Poland lives in Newry and he has expressed his concern to me about the attacks on Polish people. And of course it is not just people from Poland, and it is not just because of a person's nationality.
"All such attacks are an affront to us as a democratic and civilised country. That is behaviour that must stop immediately."
Earlier, the opening session of the general assembly was addressed by outgoing moderator Dr Rob Craig.
Reflecting on his year in office under the theme 'a place of transformation', Dr Craig referred to the violence in north Belfast last summer and the dashed hopes of the Haass talks at Christmas.
He said those events had "sadly overshadowed" other key events, such as the visit by the president of the United States to Belfast and the first state visit to the UK by an Irish head of state.
The general assembly is running for four days in Belfast and will discuss church matters and their positions on education and social policy.