Cherry Tree House nursing home owner failed to report abuse claims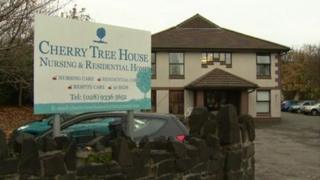 A nursing home owner failed to properly report allegations of potential abuse against two elderly residents, healthcare regulators have found.
Staff are alleged to have verbally abused two people who live in the home in Carrickfergus, County Antrim.
An investigation into what happened at Cherry Tree Nursing Home is under way.
The home was the subject last year of a BBC investigation after a whistleblower accused the authorities of ignoring her concerns about falling standards.
Dr Dean Harron, who owns the home, failed to comply with health regulations in two different areas.
Vulnerable adults
Last month, the Regulation and Quality Improvement Authority (RQIA) found Dr Harron guilty of failing to comply with safeguarding legislation.
Following an inspection last September, the regulators found that the owner had failed to ensure all staff had been properly trained in the safeguarding of vulnerable adults.
It also found there had been "inappropriate" behaviour between staff.
It was while those allegations were being investigated that the regulators became aware of claims that two elderly residents had been verbally abused.
The home had been placed on notice or alert since last September. However, further inspections were also carried out in February and May.
While the allegations of abuse against the residents had been investigated by the home's manager, the safeguarding team at the Northern Health Trust were not notified.
This was a breach of legislation as well as regional and local protocols.
Whistleblower
In November 2012, Dr Harron was advised by the RQIA that management within the home needed strong support from him in order to turn things around.
It was advised that training for staff in all areas was compulsory.
Last year, a whistleblower told the BBC that the authorities had failed to listen to her warnings about falling standards at the home.
The whistleblower's allegations stretch back many years. The former care worker told the BBC that basics such as feeding, toileting and cleaning were often ignored due to staff being inappropriately trained.
A full report triggered by the whistleblower's account is due to be published by the RQIA later this month.
'Urgent action'
Health campaign group Patients First has called on the RQIA to impose the strongest sanction possible on the nursing home owner.
The group told the BBC that Dr Harron had been given too many chances to improve conditions at the home.
"We call on the RQIA and the health minister to take urgent action without delay," said spokesman Aidan Hanna.
The RQIA said the owner must ensure that staff registered with Northern Ireland Social Care Council were aware of their responsibility to report any suspected abuse to the relevant person.
The owner has until 9 July to comply with the current requirements.
The home's manager, Jennifer Tracey, said: "We are deeply disappointed that, despite the last 18 months with Cherry Tree demonstrating continuous improvement and compliance with the RQIA standards and meeting all requirements with regard to the quality and level of care for our patients and residents, that just last week we were informed that a manager had failed to properly report a concern about two instances involving one care assistant, when a vulnerable patient was being assisted during a meal and when another was spoken to sharply.
"Our patients and residents should and can expect the very best from our staff and we take extremely seriously any shortcomings that are implied or identified.
"We have in place robust reporting procedures which should have been used in this instance and were not.
"On being notified by RQIA about this failure we carried out a full briefing of all staff to ensure a complete awareness of our policies and the requirements to be compliant at all times."