Belfast Harbour increases pre-tax profits to £27m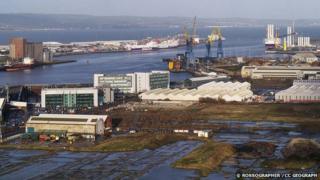 Belfast Harbour made pre-tax profits of £27m in 2013, up from £20m in 2012.
The performance also saw turnover rising by 30% to £50m as the port reaped the benefits of a major investment in its facilities.
Improved deep water facilities allowed it to win the coal importation contract for Kilroot power station. Coal trade rose by 150% to almost 3m tonnes.
Container traffic at the port, which reflects consumer goods, was down slightly.
A harbour spokesperson said this reflected "ongoing depressed levels of consumer confidence".
A strong performance came from the harbour's 50-acre renewable energy facility which is leased to DONG Energy and ScottishPower Renewables.
'Modest growth'
The facility is the UK's first logistics and assembly terminal to support the offshore wind industry.
Its operation saw the import and export of wind turbine components jump from just 3,000 tonnes in 2012 to 200,000 tonnes in 2013.
Overall, the amount of trade handled by the port rose by 16% to a record 22.7m tonnes, which is 30% higher than the pre-recession peak recorded in 2007.
However the harbour spokesperson cautioned that the strong trade growth was due "largely to investment in facilities" with the underlying growth described as "modest".
Belfast Harbour Chairman, Len O'Hagan, said: "Record levels of profit have enabled the harbour to commit £60m towards further projects to benefit the local economy.
"This is necessary to accommodate a projected 68% increase in trade over the next 15 years and ensure that Belfast Harbour remains forward-looking as the island's most modern gateway to overseas markets."