Border Lives short films look at everyday life during the Troubles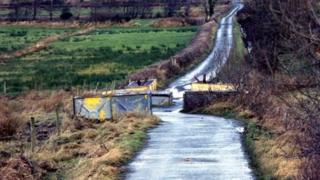 Six short films looking at everyday life along the border during the Troubles and beyond are being screened in the areas where they were shot.
While the phrase 'bandit country' became shorthand for many who saw the area as little more than a hotbed of violence and general lawlessness under the shadow of heavily armed checkpoints, people living there still had to go about their daily routine.
Border Lives aims to tell the stories behind the headlines, featuring interviews with 90 people who testify how the conflict led to fear and isolation as well as humour and community spirit.
The project's director, Conor McGale said the films were "essential viewing for people who want to understand the reality of life in the border area during the Troubles and beyond".
"Here we saw ordinary lives played out before an extraordinary background," he said.
"There is a strong and varied series of contributions, ranging from the honest and heartfelt testimonies of people from the Protestant communities and Orange Order background who spoke of their sense of isolation and fear, to the experience of people near Clones in County Monaghan, whose economic disadvantage caused by the closed roads in their area made a deep impression on their lives."
Screenings are taking place at a series of venues along both sides of the border in June, beginning on Tuesday in Newry, County Down.
The films will later feature on a website created for the project.
"We met some great characters and heard some deeply moving stories," said Mr McGale.
One of the films is about the Protestant experience in south Armagh, and people there who belonged to the Orange Order.
Among the 14 people from Markethill, Newtownhamilton and Keady who were interviewed are a retired RUC officer and a man whose father was killed by the IRA.
Another film switches focus towards Forkhill, Crossmaglen and Camlough - areas seen as republican strongholds - and hears people's differing perspectives of what it was like during the Troubles and how things have changed.
A former IRA member talks about what it was like growing up in the area, a former police officer who served in nearby Bessbrook talks about working there and other interviewees talk about how social life, sport and music brought people together.
The third film crosses the border into the Republic of Ireland, with people in Clones talking about how disruption affected them financially and why some Protestant families migrated from County Monaghan to Northern Ireland.
A group of former republican prisoners and families talk about being subjected to harassment and intimidation while some Protestants speak of their feeling of being left behind as a result of partition.
Another film touches upon the economic impact of the border, with interviewees talking about smuggling, customs and road closures.
Among the 19 interviewees in Belleek and Garrison in County Fermanagh, Ballyshannon in County Donegal, and Rossinver, County Leitrim, is a woman who talks about watching a soldier dying outside her house.
The films were produced by Tyrone Donegal Partnership and funded by the Special EU Programmes Body's Peace III programme.
Mr McGale said: "This project captures life away from the headlines and the TV news bulletins, where people lived their lives quietly while one of the most deeply entrenched conflicts in western European history unfolded around them."