Court hears Quinns' transaction explanations 'inadequate'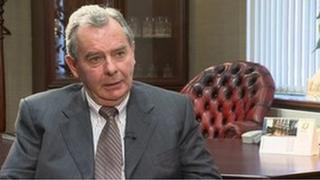 Explanations that Seán Quinn's family gave for certain bank transactions were "inadequate", a Dublin court has heard.
The bankrupt businessman's family are involved in a legal battle over claims they owed Anglo Irish Bank two billion euros when it failed.
The latest twist concerns sums of money passing in and out of family accounts in 2011 and 2012.
Lawyers say explanations for them are "improbable" but the family say they are willing to swear them on oath.
The court also heard that one of Mr Quinn's sons in law had given a "not entirely credible" reason for having a blank hard drive.
Stephen Kelly gave the blank laptop to receivers for it to be analysed.
A lawyer for the receiver appointed to deal with the Quinn family's assets said his team were not applying to cross-examine Mr Kelly at present, but might want to after the laptop undergoes more forensic examination.
He said the explanations given so far were "inherently improbable".
Lawyers for the Quinns said they would legitimise the explanations they had given so far by swearing them on oath.
They said the family had complied with a court order and provided explanations the receiver asked for.