Big Lottery Fund: £500,000 grant for Northern Ireland youth project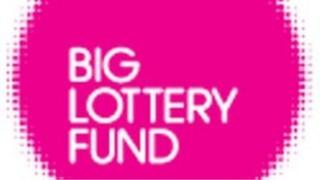 A media project for young people is to benefit from a £500,000 grant from the Big Lottery Fund.
Cool Choices is run by Start360, working in partnership with Cool FM.
It aims to help young people learn digital media skills, as well as vital skills that will help them get employment in other sectors.
The Big Lottery Fund is celebrating its 10th birthday, having supported more than 7,000 community projects across Northern Ireland.
In that time, funds totalling £302m have been given out.
The Cool Choices course is for young people aged 16-24 who are not in education, employment or training. It will run for two years.
Conor McHugh, 24, from Dungannon said his life had been transformed with support from Start360.
He is now studying for an Open University degree.
"I've worked a lot with Start360 over the years including doing their GRIT programme when I was unemployed. The staff helped me with every aspect of my life and helped me fulfil my ambitions and overcome obstacles," he said.
"They have given me a new outlook on life - you could say they saved my life.
"Now I'm studying with the Open University and volunteering with Start360 - I want to work there in future."
Anne-Marie McClure, chief executive of Start360, said: "Start360 is really excited to be part of Cool Choices - it's vital that we provide our young people with the skills that will help them to succeed in growing and emerging industries, including the media.
"Taking part in Cool Choices will give participants access to new skills, which they can go on to use in radio, in the wider media or in a range of other jobs. We hope that over the duration of the Cool Choices programme, we will find and nourish the talent of the future."
Frank Hewitt, Big Lottery Fund Northern Ireland chair, said the money would help develop the digital skills of some of Northern Ireland's most isolated young people.
"I can't think of a better way to celebrate the difference Big Lottery Fund has made over the past ten years than to invest in this exciting project," he said.