The Box nightclub: Complaint over Belfast drinks promotion upheld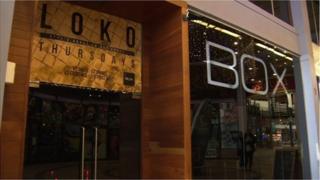 A complaint has been upheld against the owner of The Box nightclub at the Odyssey in Belfast about one of its drinks promotions.
The Independent Complaints Panel (ICP) administers a code on the promotion and retail of alcohol.
It found that a promotion called Loko encouraged irresponsible drinking and used offensive language.
The nightclub's owner, Utopian Leisure, said it believed the promotion was compliant with codes of practice.
Utopian Leisure said it had worked with the panel, but believed the promotion, which has ended, was fully compliant with the retail codes of practice.
Duncan McCausland, who chairs the ICP, said: "Promotions are part of the industry and we encourage responsible promotions and responsible consumption of alcohol.
'Responsibility'
"If people breach the code, then that can be referred to, and brought before the panel for consideration."
Colin Neill, chief executive of Pubs of Ulster, said they supported the decision taken by the ICP.
"Indeed, we welcome the fact that the promotion has stopped and the licensee was fully co-operative with the process," he said.
"The purpose of the code is to raise an awareness and sense of responsibility among licensees that the promotions they operate must be carried out in a way that is sensible and does not encourage the irresponsible consumption of alcohol.
"Pubs of Ulster is fully committed to ensuring that our members comply with the code and that the message is sent out loud and clear that there is no place whatsoever for such practices in our industry.
"The panel's decision is a reminder to the licensed trade that there is zero tolerance for irresponsible practices in our industry."