Housing Executive contractors in perilous position: Sammy Wilson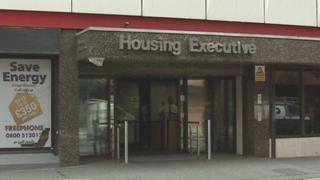 Some building contractors working for the Housing Executive are in a "perilous financial position" because of an ongoing dispute about payments.
The claim was made by DUP MLA Sammy Wilson at a meeting of the Social Development Committee.
The firms believe that they are owed money.
They deny Social Development Minister Nelson McCausland's allegation they received as much as £18m in an overpayments "scandal".
The committee's chairman, Alex Maskey of Sinn Féin, said he was "very frustrated" to be informed in correspondence from the Department for Social Development that the situation had not been resolved after a year.
This, he said, was despite the committee having been informed previously that negotiations had concluded.
"This is not good enough," said Mr Maskey.
"It has gone on far too long. There is a strong likelihood of companies going to the wall."
His party colleague Fra McCann said he was concerned the matter was being drawn out until the assembly went into summer recess in early July.